There is a special election for APS District 2 on September 17th. Here's everything you need to know!
Where's district 2:
Find out if you're in district two by checking your voter registration. District 2 is made up of Atlanta City Council District 3 and 4.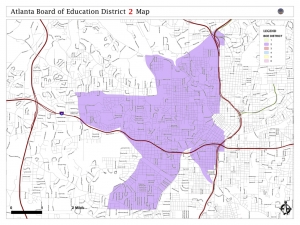 Source: www.mechanicsvilleatl.org
Here's a fact sheet from VOTEATL.org on District 2.
Who is running?
Do you know who's on the ballot? Here's the list:
Do your research
You still have time to research the candidates on the ballot. We know you're passionate about education in Georgia. If you're interested in knowing more where the candidates stand on education issues, check out this questionnaire from our friends at GCSA. 
Know your polling location
Before you vote double check your polling location through GeorgiaCAN's Civic Center. Remember polls are open from 7 am to 7 pm. If you're in line when the polls close stay in line. Make sure to bring your photo I.D.
Make a plan to vote
Think about when you're going to vote! Ask yourself these important questions:
Are you going before work? During lunch? After work? How are you going to get there? Are you driving? Taking public transit?  Maybe walking or biking? Are you bring a friend?
A plan ensures you will actually vote.
For example, here's my plan: 
I'm voting on Election Day. I'm going at 7 am before work. I'm riding with my roommate to our polling location near Atlantic Station. I know the candidate I'm voting for. I'm bringing my photo I.D. which is required by state law. 
Now you're ready to vote!
After you vote here are a couple of things to do:
Make sure to share this blog with your friends. Special elections, such as this one, usually have small turnouts 

Check out who won. You can keep track of the results starting at 7pm

here.

Stay engaged. Sign up to join

GeorgiaCAN's Alerts

.

Mark your calendar for a runoff.
We hope these tips help you prepare for election day! If you have any questions please feel free to reach out to steven.quinn@gacan.org.