We're excited to be a co-host with Atlanta Thrive for the 2019 Atlanta Parent Summit. The event will take place on Saturday, October 26th at 11:30 am. We know you have a few questions, so we put together a quick FAQ sheet for you.
Where's the event?
The event will be held at Martin Luther King Jr. Recreation Center. The address is 110 Hilliard St SE, Atlanta, GA 30312. You can find directions here.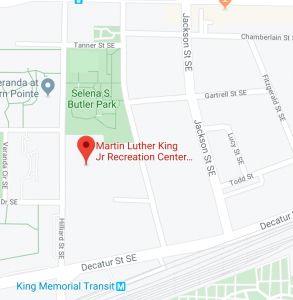 Where do I park?
There is parking on-site and it's free. If the lot is full there are a few parking decks and areas the location. You can park at the King Center up the street and free or at the Pete Hackney Parking Deck near the capitol building, it's a bit of a trek and it will not be free ($10).
I do encourage taking Marta. There is a MARTA station very close to the venue. It's King Memorial Transit Station.
Finally, there is UBER or LYFT.
If you're having an issue with transportation. Please call 252-349-8751. We will help you get to the event.
Will there be childcare available?
Yes! We will have childcare on site. If you plan to bring children to the event please send a quick email to steven.quinn@gacan.org with the number of children your bringing.
How long is the event?
The event will start at 11:30 am and should wrap up at 1:00 pm. We please ask you to be on time.
Dress code?
Just come as you are, there is no dress code for this event.


Will there be networking time?
Yes, before and after the event join us for a few minutes to connect with community members
Do I need to prepare for the meeting?
I would check out the district website on the strategic plan here. Other than that, just come ready to advocate/voice your thoughts on the future of APS.