Mission
GeorgiaCAN seeks to identify and advance common-sense policies that put the needs of students first. We engage local stakeholders—from community members to policy makers—to advocate for student success throughout the entire public education system.
Vision
Learn more about our vision for the future of education here.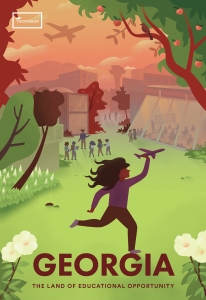 Our Policy Pillars
Students succeed when every classroom is led by the best and brightest teachers.
We believe that exceptional educators are the cornerstone of student success and that every child deserves to be placed in a classroom with a highly effective teacher who is engaging, accountable, and supported by training and policies that empower them.
Students benefit when they have access to a high-quality school that works for them and their individual needs.
We believe parents are the most important decision-makers in a child's life and should be empowered to choose the school that will best meet the needs of their children. All families deserve equal access to excellent schools that hold high expectations for every student and invest in resources to address students' unique academic and socio-emotional needs and gifts.
Students achieve when their school has flexibility and support.
We believe that in the right environment every student can succeed. Schools that have the room to respond and adapt to their students and are strengthened by transparent, accountable systems, equitable resources, and effective governance are the ones most prepared to deliver student excellence.
Students thrive when they have a strong foundation.
We believe that all children deserve access to quality early childhood environments that ready them to learn as soon as they enter our K-12 system. And as they prepare to leave our K-12 system and succeed in today's workforce, we must also ensure all students are equipped to embark on a post-secondary education and can make the most of pathways to and through college.