ATLANTA, GA – GeorgiaCAN, a nonpartisan education advocacy organization, today announced the release of a poll surveying Georgia voters on their attitudes towards education in the Peach State.
The poll, conducted by the nationally respected firm Tarrance Group, shows education is top of mind for voters this year and that Georgians strongly support school choice.
When asked about the issue of K-12 education "compared to other issues like the economy and jobs, crime and public safety, and climate change and the environment", Georgia voters place a high level of importance on the issue of education, with 58% indicating that the issue is extremely important and another 28% indicating the issue at least very important to them.
With voters' attention squarely on education, school choice remains immensely popular for Georgians across the state. Support for expanding educational options crosses all regional, racial, age, gender and political demographics.
"Would you favor or oppose expanding educational options by allowing a child's state education dollars to follow that student to the school that best fits their needs, whether that is public, private, magnet, charter, virtual or homeschool?"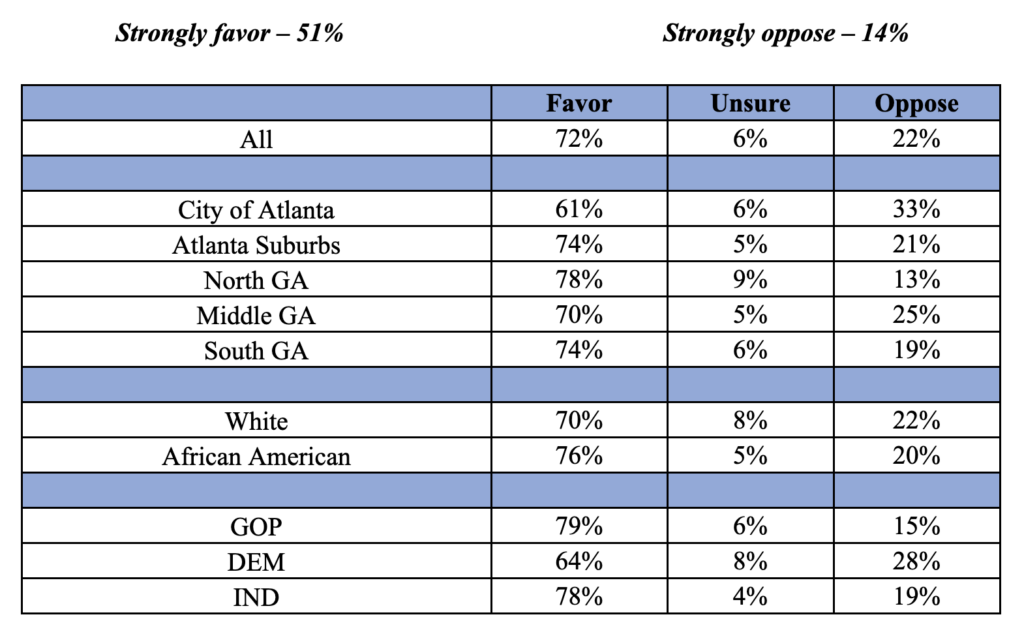 Other findings:
87% of Georgia voters agree that it is time to put students ahead of systems and that student-focused learning needs to be the next step in educational opportunities.
76% of voters who currently send their students to public schools, and 80% of the general population, believe having other school choice options is important to them, even if they may currently be satisfied with their neighborhood school.
On the issue of assessments, only 13% of voters think it is not important to annually test students in order to evaluate student learning and student learning loss as a result of COVID-19 disruptions in their education against 56% who believe it is either extremely or very important to do so.
GeorgiaCAN's Executive Director Michael O'Sullivan expounded on the importance of school choice in the state of Georgia unearthed by this polling: "Georgia has always been a state where parents care deeply about the quality of education, not just for their children but for all students in the state. This poll is yet another referendum that shows Georgia's parents are ready for real meaningful change in the system and the ability for all students to select the education that's right for them."
The poll was conducted for GeorgiaCAN by The Tarrance Group February 14-17, 2022. The poll sampled 500 Georgia registered voters, 97% of which are extremely likely, very likely or somewhat likely to vote in 2022 elections. There is a 4.1% margin of error.
###