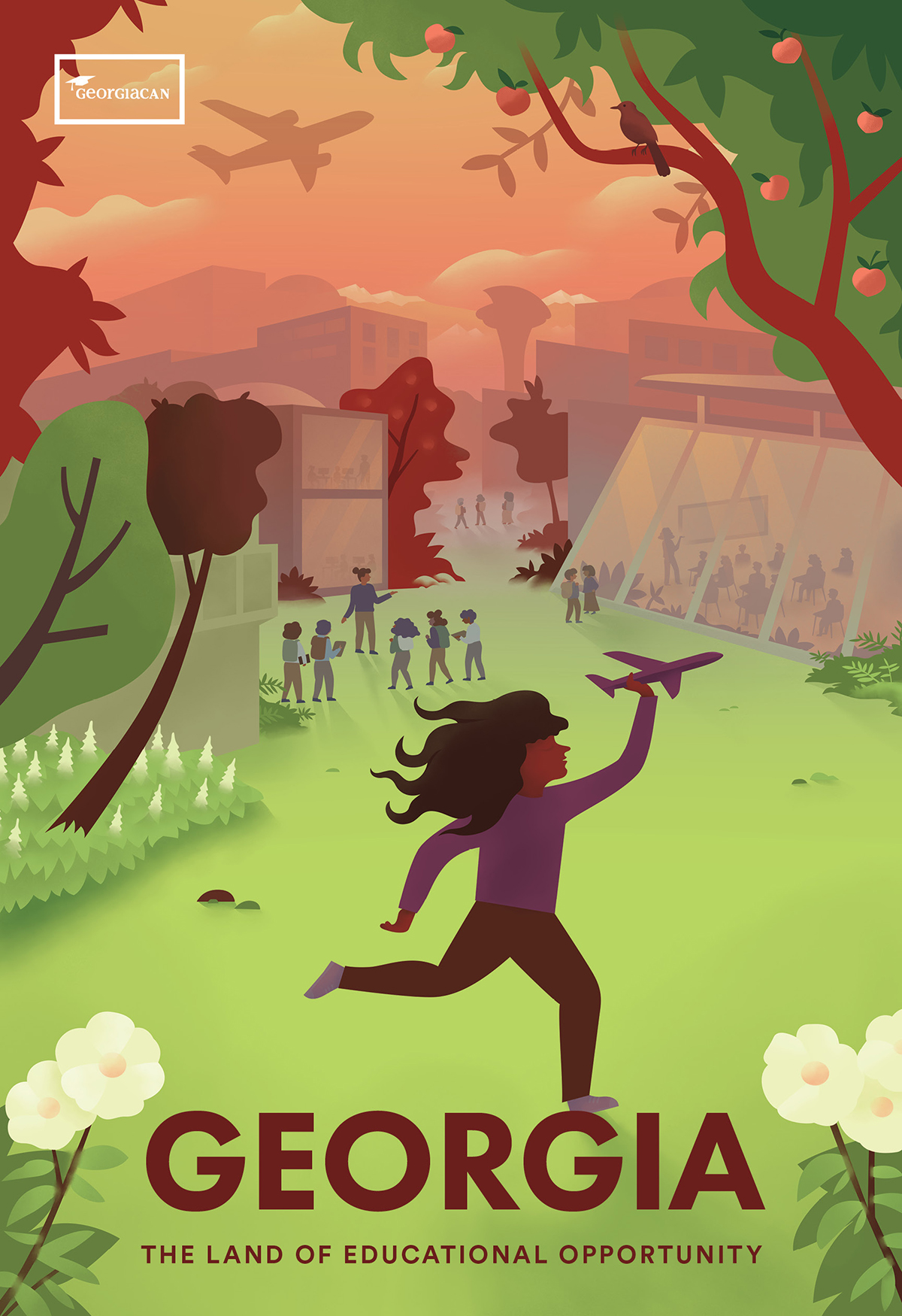 Our journey
Along the southern stretch of the Atlantic Coast, you'll find The Peach State: one of the original 13 colonies and the birth-place of the civil rights movement, with deep roots in American history and eyes toward the future. Explore Georgia and you'll find brilliant, diverse landscapes—from the Blue Ridge Mountains to the coastal plains. But there's a feature even more inspiring: the potential within every Georgia student. Today Georgia leads the nation in business, urban infrastructure and accessibility. Our capital, Atlanta, is a global city. What if we used education to create a gateway for our kids? Together, let's travel to the future of education in Georgia, where our celebrated gifts can serve as unique resources for the students in our classrooms: the students who will become tomorrow's global citizens and leaders in our Fortune 1000 economy.
That journey begins with a look at what our state has already accomplished:
➊  More students are graduating from high school than ever before.1
➋  Georgia students scored higher in 2018 than the national average on the SAT and ACT college entrance exams.2,3
➌  More Georgia students are taking Advanced Placement courses and exams each year,4 and more students are taking advantage of the Georgia Dual Enrollment Program than ever before.4,5
➍  Since 2012, Georgia has seen a 1,033 percent increase in STEM/STEAM-certified schools.6
We've made meaningful progress toward great schools for all, yet our travels to the future of education have just begun. We will know we have arrived when the barriers to high-quality education are no more, and across the state students from all backgrounds are empowered to fulfill their true potential.
1 GA DOE, "Georgia's graduation rate rises to all-time high," September 19, 2018.
2 Times Free Press, "GA public school students beat national average on SAT," October 25, 2018.
3 ACT, "The Condition of College and Career Readiness," October 17, 2018.
4 GeorgiaCAN, "Advanced Placement Exams in Georgia," February 2018.
5 The GA Governor's Office, "GA Dual Enrollment and Postsecondary Outcomes," November 2017.
6 STEM Georgia, "Growth of GA STEM and STEAM Schools," October 2018.
Our voices
Before our travels began, we set out to listen to the voices of our community. We spoke with hundreds of students, teachers, parents and local leaders. Here is what we heard about how we can better serve Georgia's children.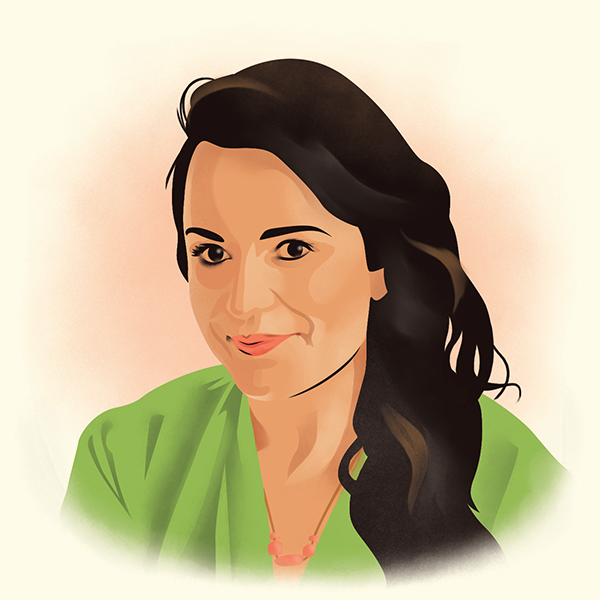 Emily White
"Our impact on kids will be greatest if we keep great people in this work long-term. That means we must provide career opportunities across time for educators and think beyond the classroom—instead figuring out where an individual will leave the most lasting mark. Funding is essential for this. Schools need the freedom to pay teachers what they deserve but also to hire enough great people. Right now, our most talented educators assume the lion's share, from operations to social work. It's what makes them successful and their work unsustainable."
Emily White is the founding head of school at Ethos Classical in Atlanta, where K-5 students get an arts-and-
literacy-focused education. Emily has taught high school English and served as founding assistant principal of KIPP Nashville Collegiate High School. She recently completed a Building Excellent Schools fellowship and is a proud Wake Forest University graduate.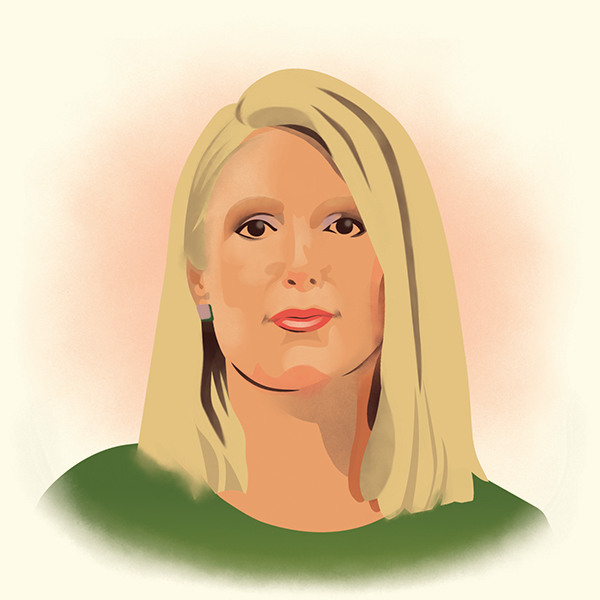 Kelly Neal
"While families have the right to choose another school, oftentimes in rural Georgia there simply isn't another school around. Other than homeschooling, you're pretty much stuck. Communities are anxious for change. In some remote areas, parents have accepted their standing 'options' as the best that can be done. But it's not. Choice takes a burden off parents who want the best for their kids, and it makes the traditional public schools better.If you get a little competition, the kids are going to win—and that's what it's about."
Kelly Neal is a Macon parent and volunteer special education advocate for Georgia Legal Services Program-Macon. A 2013 William & Mary Law School Graduate of the Institute of Special Education Advocacy, Kelly is law merit badge instructor for Boy Scouts and a member of GeorgiaCAN. She is also a member of the School & College section of the GA Bar.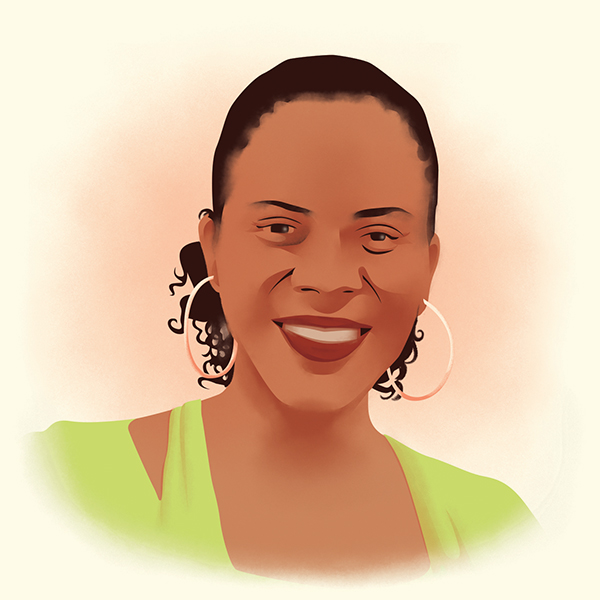 Kam Finch
"Our school system was built in an Industrial Age, and you can still see the remnants of that 19th-century thought process. But we're living in a Technology Age. Innovation isn't just about curriculum. It's about redesigning everything, from the way teachers think about education down to the layout of our facilities, in order to take it to the next level. We must lead by example to promote the caliber of imagination and innovation our kids will need to compete in the world ahead."
Kamaria Finch is a proud mother, as well as the founder and board chair of Harriet Tubman School of Science and Tech in Atlanta. Kamaria is also the CEO and owner of I Can Achieve Education, an education consulting company. She currently lives in the City of South Fulton.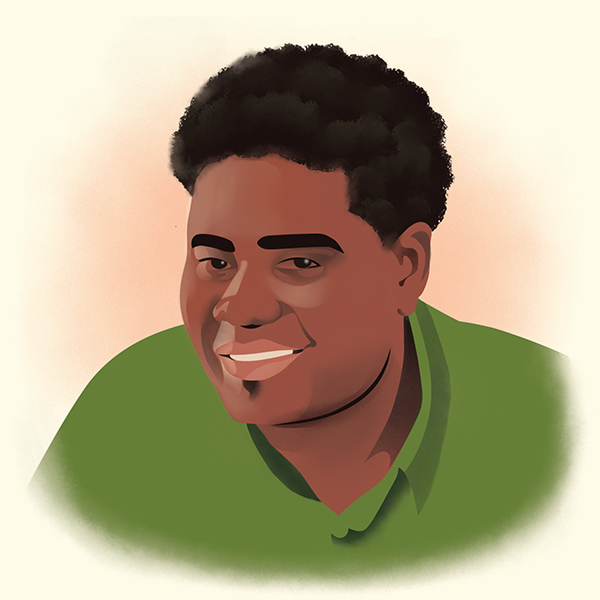 Patrick Hawkins
"Kindergarten prepares you for a lot—but there are still things a kindergartener needs to know when they arrive. For instance, kids start reading right away in kindergarten. If the child already has the basics, then they have the advantage to move forward. Grade-level readiness matters every year. In high school it calls for true preparation for what's ahead. That means our teachers need to be working with their peers in the next grade level, or the next school up, to understand where students should end the year in the classroom."
Patrick Hawkins lives in Atlanta and teaches second-grade math and science at the Kindezi School. He is the CEO and owner of the firm Hawkins Learning and Development Consulting, and is developing a podcast—for teachers, by teachers called Black Teachers Educate.
Our guiding stars

When navigating our way through this educational journey, it's important to stay pointed in the right direction. Grounded in a sense of what's possible, we will use these four guiding stars to set goals for the future of education in Georgia.
Talent
Exceptional educators are the cornerstone of student success, pushing our kids to reach the bar we set for them. Great teachers ensure access to high-quality learning at all levels. The data is clear: students excel when they are taught by well-supported, effective teachers.
To reach this destination, we must ensure that every student is placed in a classroom with a highly-effective teacher who is engaging, accountable and resourced by training and policies that empower them. This means we will celebrate, compensate and elevate educators as the talented and unique individuals and professionals they are. We will identify and learn from high-performing teachers to ensure that others are improving based on approaches that work.
Options
Students benefit when they have access to a high-quality school that works for them and their individual needs. Parents are the most important decision makers in their children's lives and should be empowered to choose educational opportunities that serve their kids the best. All families deserve equal access to excellent schools that address students' unique academic and social-emotional needs and gifts.
To reach this destination, we will ensure that diverse options are available to our students. Through investments in programs that support and prioritize our most vulnerable student populations, we will help families find the right learning environments. Families will navigate an education system with the right tools and valid information so their children are engaged in the experience of their education.
Innovation
As the world around us evolves, so should our school systems. We must embrace the challenge of providing our children with an education that keeps up with the world. Schools must be flexible, transparent and accountable. When needed, our education systems should be able to adapt to changing landscapes in order to create the right environment for every student to succeed.
To reach this destination, we will remove barriers to discovery in our classrooms with the same eye toward the future that has distinguished Georgia globally in transportation and business. We will align our K–12 system at every level with Georgia's institutions of higher learning and world-class industries. We will reimagine learning to include hands-on experience, from entrepreneurship to apprenticeship and exposure to the STEM workforce.
Readiness
Students must have a strong foundation in reading to succeed in life, and the necessary tools for communication to successfully navigate our evolving communities, state and world. Every child must be ready to travel the various paths that wind through Georgia's K–12 education system and beyond.
To reach this destination, we must invest in early childhood environments so all our youngest students are ready to learn when they show up on the first day of school. We must continue embracing rigorous standards in all subjects and ensure we have meaningful assessments and checkpoints along the way. All students must be ready and equipped with the tools and resources to embark on a post-secondary education pathway, whether they choose to make that decision or not, through active engagement in their own education pathway.
Our vision
We envision a Georgia that uplifts every child—regardless of their race, class or zip code. All children have dreams they deserve to realize and unique potential to define the world of tomorrow. Our industry and economy have already set The Peach State apart for its global contributions. Now we must reimagine our public education system with the same pioneering tradition of innovation.
We can unlock our potential only through a world-class education that is bold, creative and equitable. In pursuit of excellence, we must honor diversity in all forms. For inspiration, we need only to look at our own incredible legacy—from our state's founding by James Oglethorpe on principles of social reform and justice; to civil rights icon Dr. Martin Luther King, Jr.; America's 39th president, Jimmy Carter; Pulitzer Prize-winning author Margaret Mitchell and soul giants from James Brown to Gladys Knight; and Juliette Gordon Low, the founder of the Girl Scouts of America.
In every classroom, in every corner of our state, there are future leaders like this just waiting for their opportunity.
We are charting the path to a future where:
➊  Students and their families are empowered to craft their own learning journeys.
➋  Diversity is honored, and drives how we understand and deliver education.
➌  Every school equips students to be productive and engaged citizens. Our schools are highly connected with, and supported by, local communities and local industry.
➍  Education and Georgia's global industry hubs work together to prepare our students to compete in, shape and advance the workforce of the future.
A student's educational journey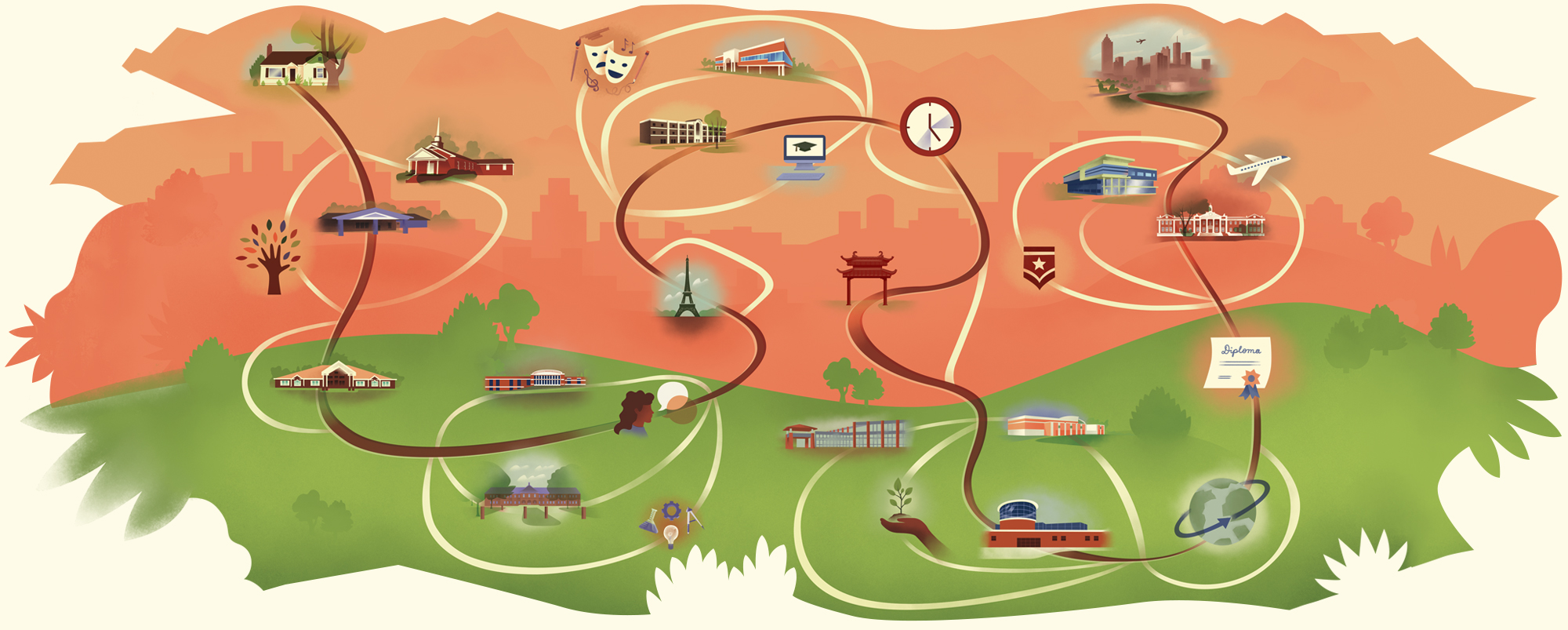 What do we hope it will be like for a family to embark on an educational journey in the Georgia of the future? Follow along with Angela and her family to see how they navigate the range of choices.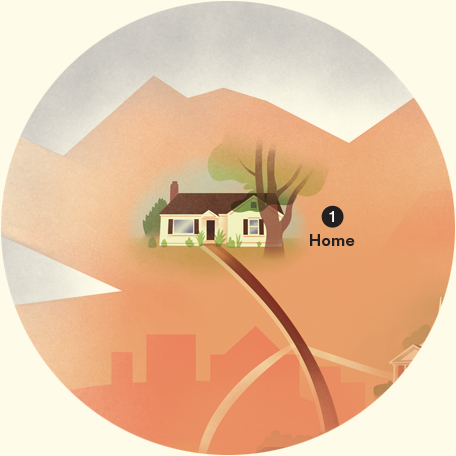 Home
Angela is born in Gwinnett County. Her mother works part-time for a large airline company, and her father is a teacher.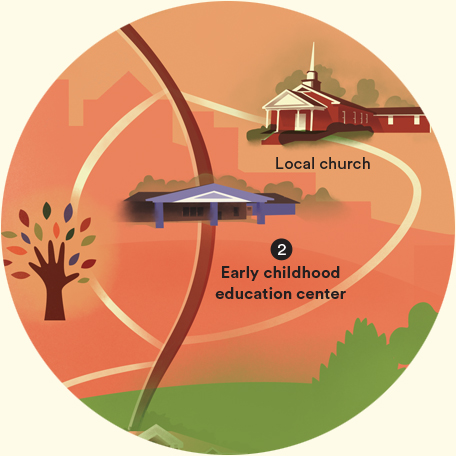 Early childhood education center
Angela's family sends her to a comprehensive early childhood center near their home supplemented with Head Start programming.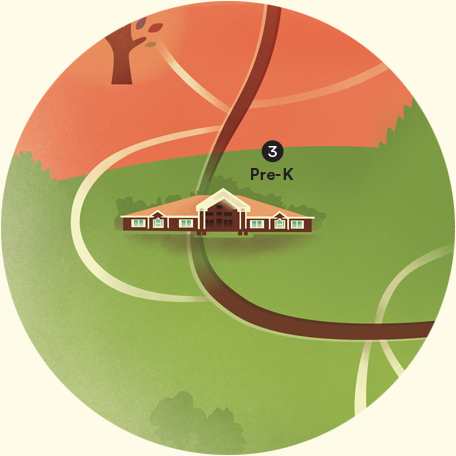 Pre-K
When Angela turns 4, her parents enroll her in a Georgia lottery-funded pre-K program.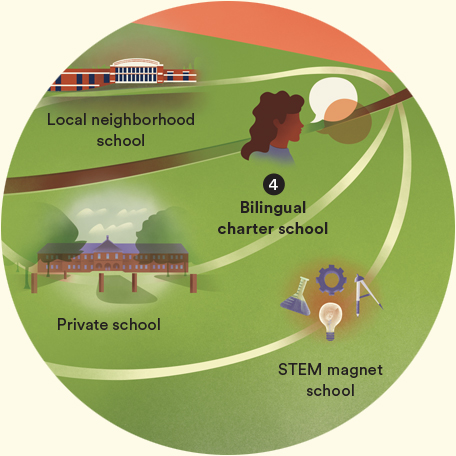 Bilingual charter school
Angela's family chooses a bilingual elementary charter that teaches math and elective classes in Mandarin.
Global exchange to France
Angela travels to France for a cultural immersion exchange program.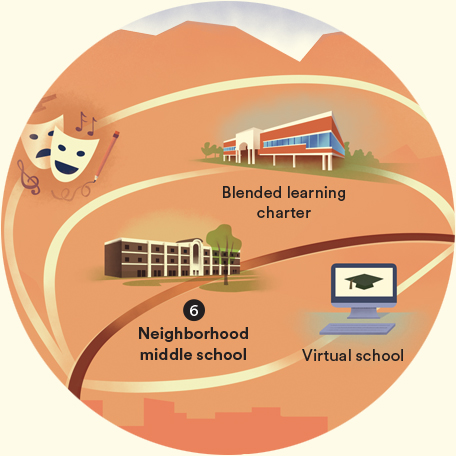 Neighborhood middle school
Angela enrolls in the neighborhood middle school where her father teaches.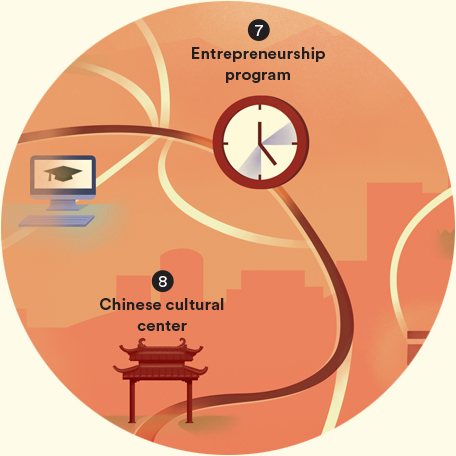 Entrepreneurship Program
Angela arrives at school before classes begin and leaves a while after they've ended. During this time, Angela joins an entrepreneurship program.
Chinese cultural center
Angela's family enrolls her in a Saturday Chinese-language immersion program.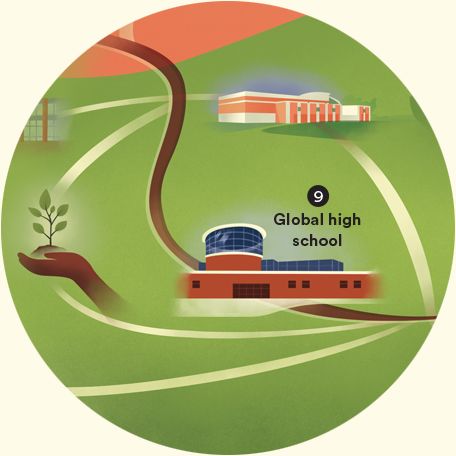 Specialized magnet high school
Angela enrolls in a global language and business magnet school that gives each student an externship opportunity. All students take the PSAT in 10th grade and the SAT twice before graduation.

Business externship
During Angela's junior year, she works for an international trade company in downtown Atlanta once a week. This supplements her coursework and gives her insight into international business.
High school diploma
In her senior year, Angela takes two dual-enrollment courses with a local provider and graduates high school with college credits.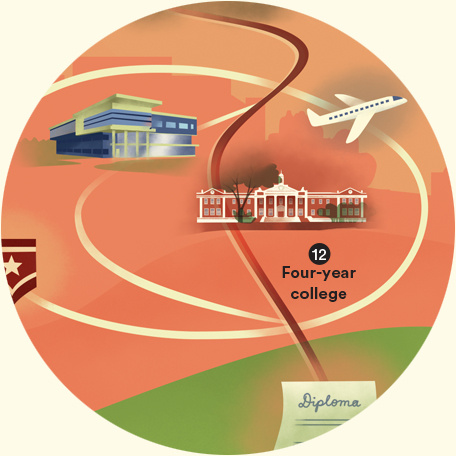 Four-year college
Angela is eligible for the HOPE and Zell Miller Scholarships, and she attends an in-state, four-year college. She pursues a degree in international business and uses her language skills to return to China for a year-long study abroad program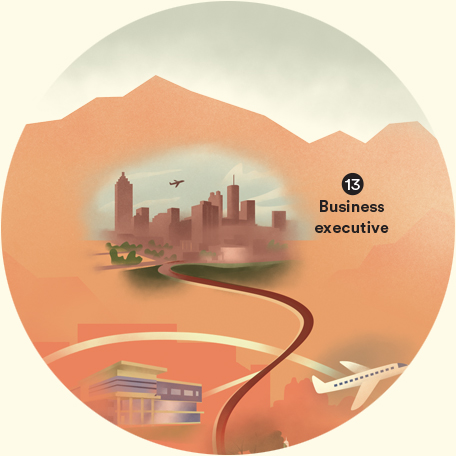 Business executive
Angela begins work at the same international trade company where she spent her junior year.
---
24,576 options
Angela and her family could have navigated this map 24,576 different ways to customize her education. The map represents only a small fraction of the total choices available to them.
Measures of success
Our hope is that this journey into the future will provide vision and guidance so Georgia can emerge as a national and global leader in educational opportunity for all. We will create a "Georgia Model" that's grounded in what we know works best for all our students, educators and schools. While our four guiding stars provide us with a uniquely Georgia vision of change, we also know that we must track our progress against other states. To do so, we will use 50CAN: The 50-State Campaign for Achievement Now's four dimensions of a healthy and dynamic learning system:
Community → Effective, sustainable policy change requires strong relationships, real-time feedback and long-term ownership by the people served.
Competition → Greater responsiveness and better outcomes are more likely when people have the power to choose among multiple options to meet their needs.
Performance → Success requires both the flexibility to pursue excellence and rigorous standards to ensure those serving the public are held accountable for their results.
Pluralism → Diverse populations are better served by dynamic systems that support lots of paths to success and embrace different traditions, values and beliefs.
Below you'll see how we currently rate ourselves in each dimension. These ratings use 50CAN's four-point scale. We also outline next steps for our future progress.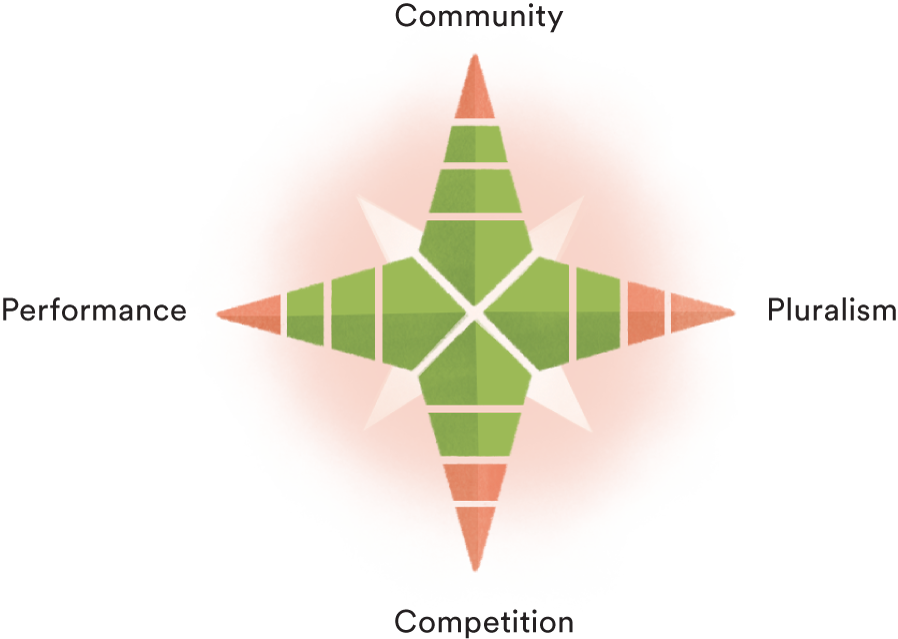 Community
(3 point out of 4)
Our coalition of business, nonprofit and community leaders has worked to improve learning outcomes across the state. However, Georgia still has room to improve on empowering community members to ensure their voices are heard.
Competition
(2 point out of 4)
In addition to the traditional education system, Georgia offers a wide array of education alternatives. Yet, we must ensure we're providing families with greater choice opportunities and clearly accessible information to help navigate the system.
Performance
(3 points out of 4)
We have significantly invested in rigorous, accessible standards and statewide assessments, as well as clear and effective accountability systems. However, we must strive to increase school leader autonomy and flexibility in school-based decision making.
Pluralism
(2 points out of 4)
We have made progress in investing in different educational approaches and broadened our definition of student success to account for various educational pathways. Now we must create many more opportunities for all students across our state to have the opportunity to engage in a variety of approaches to education.
Click here for an in-depth look at these measures of success, and to track our progress along our journey.
How to get involved
GeorgiaCAN is a local nonprofit that seeks to identify and advance common-sense policies that put the needs of students first. We engage local stakeholders, from community members to parents to policy makers, to advocate for student success throughout the entire public education system. GeorgiaCAN is a branch of 50CAN: The 50-State Campaign for Achievement Now.
Guided by our shared hope that everyone can be an advocate and effective organizer in their communities, we develop strong leaders who use their voices to champion all kids. Here's how you can join in our work:
→ Continue your journey online. Want to learn more about education in Georgia? Visit gacan.org, and sign up for our emails to stay in the know.
→ Share your ideas. How can Georgia aim high in education? Share a post on social media with the hashtag #KidsCAN.
→ Start the conversation. We would love to hear from you and talk more about working together. Email us at info@gacan.org.
→ Join the campaign. We would love to help you get involved. Text "Georgia" to 52886 to sign up for updates on education advocacy opportunities across our state.
Together, we can build an education system worthy of the immense potential of all our children.