On April 21st, Atlanta Public Schools has announced Dr. Lisa Herring as the sole finalist for the next leader of the district. To help residents get to know Dr. Herring, we've put together a list of all the current interviews and upcoming virtual events that will include her. If you have one that we didn't include, please feel free to share at steven.quinn@gacan.org
Local interviews with Dr. Herring
Dr. Herring has already done numerous interviews with local media outlets. These conversations provide insight into her views on the most pressing needs of the district and her general educational philosophy.
Dr. Herring's Biography
Learn more about Dr. Herring
Atlanta Public Schools School Board Videos
The announcement of Dr. Herring as the sole finalist
Atlanta School Board: Virtual Q & A
Student Advisory Council: Virtual Q & A
Have questions for Dr. Herring?
The Board is asking constituents to submit questions for Dr. Herring through the same site as was used at the beginning of the search process or via email.
Submit your questions  Email your questions
Upcoming Virtual Meetings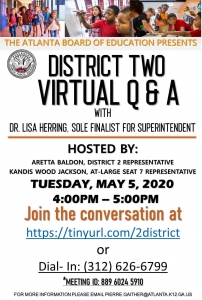 Join the District Two meeting here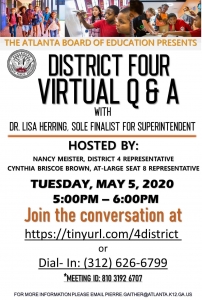 Join the District Four meeting here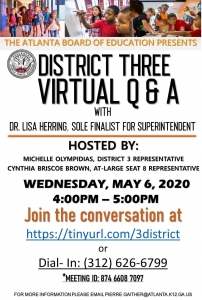 Join the District Three meeting here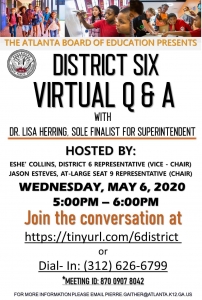 Join the District Six meeting here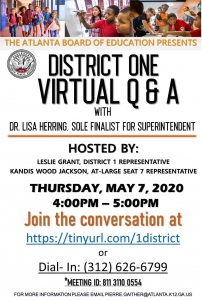 Join the District One meeting here